Understanding Skin Cancer
---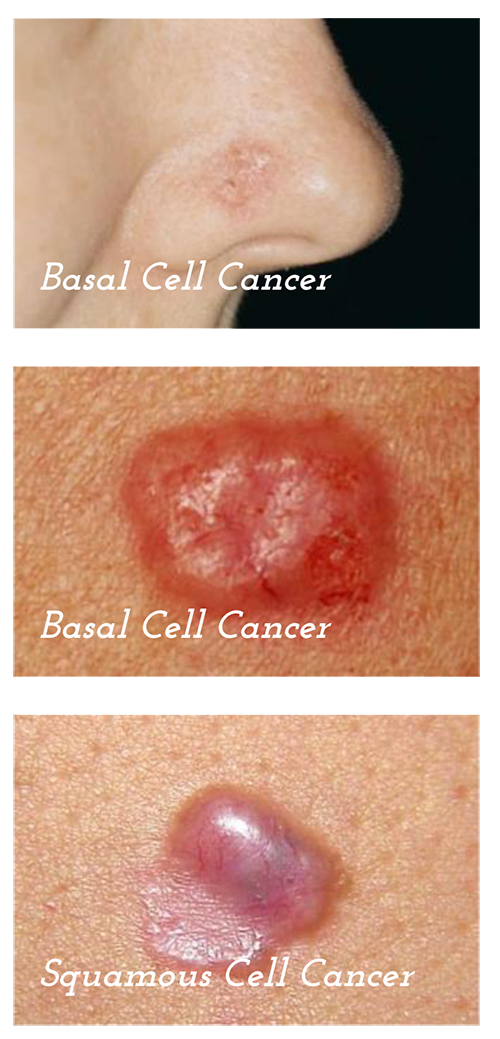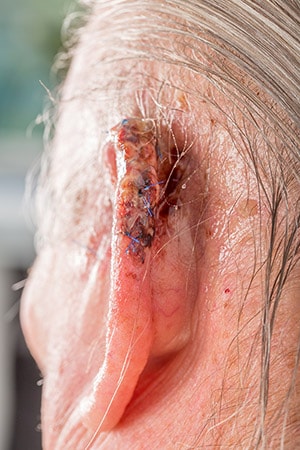 Skin Cancers occur all over the body. More likely to occur in sun exposed areas like the face and hands but can occur anywhere from the toes to the groin to the scalp.
If you are diagnosed with skin cancer you can come to Dr. Jacobsen's office and he will help you remove it completely.
If you thank you have a suspicious area on your skin you should consult your family doctor he dermatologist or see Dr. Jacobsen A he can help you sort this out and help you make the proper diagnosis.
Once you are diagnosed with skin cancer it should be treated as soon as possible. Surgical removal is often the best and quickest solution for you.
Dermatologist and family doctor as well as sometimes use freezing or shaving or some chemical treatments for mild skin cancers.  Dr. Jacobsen removes these areas surgically in a fine fashion and surgically closes them in a fine fashion.
Patients often asked if Dr. Jacobsen does Mohs surgery. At our office we perform what we call slow Mohs surgery. Dermatologists are Mohs surgeons but are not plastic surgeons.  In a Mohs surgeons' office they will remove some tissue and then possibly some additional tissue and some possibly additional tissue while you wait in the office while they examine the tissue under the microscope for you. This is very effective to remove the cancer completely. This often leaves a wound that requires reconstruction and often patients are referred to Dr. Jacobsen is a plastic and reconstructive surgeon to fix these wounds.
Dr. Jacobsen performs the slow Mohs surgery technique and in this way, we remove the skin cancer and some extra skin around it to make sure that is completely excised.  It is then sent to the laboratory for pathologic review.  We usually receive the pathology results the next day to determine whether it is completely excised or not.  The procedure usually takes less than 15 minutes to perform and to get to go home with no wound.  Occasionally we are surprised that the pathology report from the laboratory reveals that there are positive margins and we will ask you to return to us for further excision.  This often is disappointing to patients and disappointing to us as well.  But it should not be disappointing.  Coming to our office on 2 occasions may be less time than it would be to remain in a Mohs surgery office for the entire morning or afternoon.
But it is important to completely remove skin cancer and to preserve the appearance of your critical structures of your face whether you plan to do it with a Mohs surgeon or with Dr. Jacobsen.  But we will remove your skin cancer in its entirety safely and reconstruct you finely.
Usually removal of your skin cancer is a short office procedure is best for you. If the cancer is large or complicated it can be done in the operating room under anesthesia. The cancer should be removed in its entirety with "clear margins". This means under the microscope there is no more cancer on the edges.
Key Points
With most skin cancers, like basal cell cancers and squamous cell cancers this surgical removal is the cure!
Once the skin cancer is removed the wound must be closed as perfectly as possible to minimize your scar and maximize your function!  We can do this for you.

Dr. Jacobson has removed thousands of skin cancers for patients over the years from head to toe.

Dr. Jacobsen can help you with your skin cancer removal and a finely done repair of your skin.
Most removals can be done in the office with local anesthesia. Much larger skin cancers can require a short outpatient anesthesia.
Some skin cancers after removal require just fine suturing techniques, some require flaps or grafts or both!
Call us or email us with you skin cancer question and we will be happy to help you right away!
Developing skin cancer in phoenix is common. Skin cancer comes in many forms, and sometimes it is difficult to see the skin cancer with the naked eye. Sometimes when his skin cancers removed and has to be removed again if it cannot be seen immediately by the naked eye. As one of the most trusted Phoenix skin cancer specialist, patients come to Dr. Jacobsen to have the cancer removed, but also to be made whole after the operation and be reconstructed properly. With this goal in mind Dr. Jacobsen does his best to have your cancers removed with a minimal amount of soft tissue particularly around the eyelids nose or lips or face where excessively excision of skin could cause a deformity. Reconstruction and maintained of facial appearance and function is very important to you and to Dr. Jacobsen. Sometimes patients are disappointed that they have to return for further excision and it must be kept in mind that any surgeon can always get the entire cancer out the first time if a large area is removed every time but this is not best for the patient is usually these critical anatomic areas need to have every millimeter of tissue preserved.  So there is always a balance between resection of the tumor completely but with not excessive skin. Dr. Jacobsen will help you with this when he consults with you. All of the specimens and Dr. Jacobsen's office goes to the pathology laboratory where it is taken to their laboratory each day from Dr. Jacobsen's office and looked at under the microscope the next day.  Melanomas however require 2 or 3 days of evaluation but other cancers usually can have the results back the next day or the day after. Dr. Jacobsen's staff will call you as soon as we get these pathology reports as we know you are quite concerned about having this removed. We also always send the report to your referring doctor and dermatologist so that the circle is complete and everybody is well-informed. If you're looking for skin cancer removal in Phoenix please feel free to contact Dr. Jacobsen's office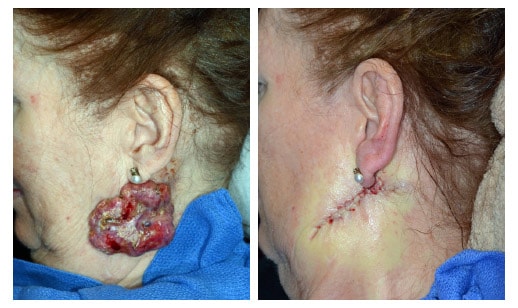 Dr J and his staff look forward to understanding the details of your unique case, desires and aspirations, and to providing you with realistic, safe and attainable results that leave you looking beautiful, and truly feeling like yourself. Take the first step toward your healing or rejuvenating procedure with Dr J by filling out our contact form to request a consultation, or to inquire about any of the services we offer. We look forward to treating you!
Dr J and his staff are committed to providing you with exceptional and compassionate care. On behalf of our entire team, we invite you to request a consultation to talk to Dr J about your goals, expectations and aspirations. We can't wait to find out how our 20-plus years of experience in cosmetic and functional plastic surgery can help change your life, and make you a happier, healthier person.
Dr. William Jacobsen
Plastic Surgery
2525 East Arizona
​Biltmore Circle, Ste C236
Phoenix, AZ  85016
Our Procedures & Treatments
Dr J considers every surgery an opportunity to express his vision with his patients, and believes in natural, beautiful results that leave you feeling confident and beautiful, but most importantly, feeling like yourself. From extremely rare and complex surgical cases, to cosmetic surgery, Dr J has the experience, compassion and understanding to help you achieve your surgical goals.