If you live in Scottsdale, we can help you. We have performed many tummy tucks and we can ensure you have a look you love. Also known as "Abdominoplasty", a tummy tuck involves removing excess skin and fat. It also works to restore any muscles that have become separated or weakened. This works to create a smoother and more firm abdominal profile.
Why People Choose to Have a Tummy Tuck
Most people strive to have a well-toned and flat abdomen. However, regardless of their efforts, not everyone can achieve their goal. Some people have an abdomen that naturally sags, protrudes, or is quite loose. Did you know that the most common cause of protruding or sagging abdomens include:
Aging
Hereditary factors
Fluctuations in weight
Pregnancy
Previous surgery
A Tummy Tuck's Limitations
f you have stretch marks around your abdomen, a tummy tuck will not normally be able to correct this. However, if the stretch marks are located on excess skin, it's likely that they will be removed.
Who Can Undergo a Tummy Tuck?
You could be the ideal candidate for a tummy tuck if you:
Are healthy and your weight is stable
Do not smoke
Have expectations that are realistic
Are concerned about the way your abdomen looks
During the Consultation 
Before you undergo your tummy tuck procedure we will schedule a consultation with you. We will speak to you about:
Your goals
Any medical conditions that you might have
Any medications you're taking
Any drugs you're allergic too
Whether you take herbal supplements or vitamins
Whether you smoke or take drugs
Whether you have previously undergone at type of surger
During the consultation we will also evaluate your health and any pre-existing conditions you might have. We'll discuss all of your options with you and recommend treatment. In addition to this, we'll need to take some photographs of you, and discuss any complications or risks.
How to Prepare for your Tummy Tuck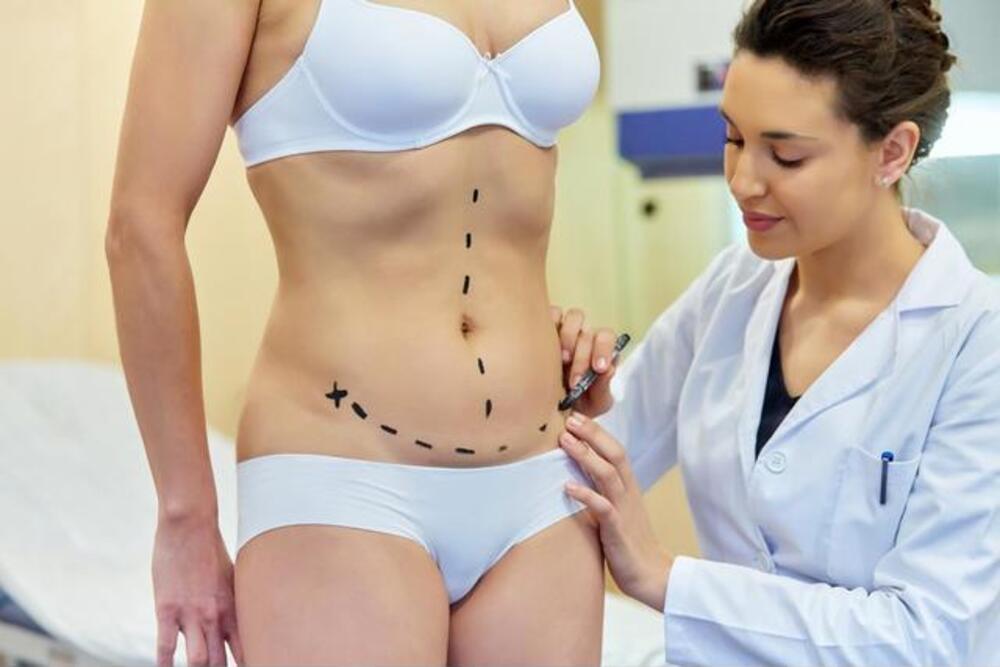 We might ask you to have a medical evaluation to ensure you're safe to undergo this procedure
We might ask you to adjust some of your current medications
Stop smoking
Avoid taking any anti-inflammatory medications, aspirin, or herbal supplements.
What to Expect During the Procedure
During your tummy tuck we will carry out the following steps:
Administer anesthesia. We will recommend you have either general anesthesia or intravenous sedation.

The incision – A horizontal-oriented incision will be made between the belly button and the pubic bone. Another incision will be made around the navel if we need to remove excess skin. The skin in the upper abdominal area is pulled down and any excess skin is trimmed. The remaining skin will be sutured. The belly button will be taken through to the surface and sutured. 

Clips, tapes, skin adhesives, or sutures will close all of the incisions.
Recovery
Bandages or dressings will be applied to the areas where the incisions were made. You might also be wrapped in a compression garment or a bandage. This is to support your abdomen while you heal. Tubes might be placed under your skin to drain excess fluid or blood
Your surgeon will give you instructions as to how to care for the site, which medications you should take, and what to look out for. You will also have a follow-up appointment with your surgeon to check if your incisions are healing properly.
Your Results
While there might be some initial swelling, you should find that after two weeks the swelling has disappeared. You should have a flatter, firmer abdomen that is in proportion to the rest of your body.
Please note, there might be some scarring. The scar could take a few months and up to a year to fade. This is normal. Please make sure you always follow your surgeon's advice so your tummy tuck is more likely to be a success.
Contact us Today
Contact us today if you would like to book a tummy tuck or if you have any questions. We are here to help you look good and feel more confident. We are also here to put your mind at ease. If you live in Scottsdale and you're considering having a tummy tuck, talk to us. Dr. William M. Jacobsen, M.D has more than 20 years of experience and is known to be one of the best plastic surgeons in the area.
We're here for you. Contact us today so you're one step closer to having a flatter abdomen and much more confidence.

Dr J and his staff look forward to understanding the details of your unique case, desires and aspirations, and to providing you with realistic, safe and attainable results that leave you looking beautiful, and truly feeling like yourself. Take the first step toward your healing or rejuvenating procedure with Dr J by filling out our contact form to request a consultation, or to inquire about any of the services we offer. We look forward to treating you!
Dr J and his staff are committed to providing you with exceptional and compassionate care. On behalf of our entire team, we invite you to request a consultation to talk to Dr J about your goals, expectations and aspirations. We can't wait to find out how our 20-plus years of experience in cosmetic and functional plastic surgery can help change your life, and make you a happier, healthier person.
Dr. William Jacobsen
Plastic Surgery
2525 East Arizona
​Biltmore Circle, Ste C236
Phoenix, AZ  85016
Our Procedures & Treatments
Dr J considers every surgery an opportunity to express his vision with his patients, and believes in natural, beautiful results that leave you feeling confident and beautiful, but most importantly, feeling like yourself. From extremely rare and complex surgical cases, to cosmetic surgery, Dr J has the experience, compassion and understanding to help you achieve your surgical goals.